PRESS
Here are some reviews (and other things) of our "music". By the way, we wanna say thanks to all the folks who took the time to listen. You rock our collective crotches so hard, it hurts!
Cameltoe Patrol reviews
-From Terminal Boredom: "Man, who would've though that we'd have not one but two records referencing camel toes this early in the year. Crazings. At least the Krunchies don't do an actual song using the camel toe motif though...anyway, The Krunchies, Chicago's great unsung band, as many will tell you. I've always enjoyed them live and on record. On this one they nail three out of four tunes. They really have a weapon in Amanda's voice, and they know how to use it. "Tornado of Stupidity" trades off vocals perfectly and has a neat little guitar line. "Take it All" actually reminds me of a Big Boys tune for some reason (excepting the vox part, you know...), maybe because The Krunchies inhabit that pleasant middle ground betwixt actual hardcore and actual punk rock that the Big Boys seemed to be so comfortable dwelling in. A-side is all aces. On "Attack Attack" I think the rhythm section goes too fast for their own good and they kind of lose it. The "Aaron Cometbus..." tune is a nice and frantic ripper though, with Amanda only on vox in all her cape wearing glory. Nice little record from the little band that could. Scum stats: first press of 300 on black and second press of 200 on clear. Both have same nice-looking sleeves and shitty looking labels. Hand-numbered."(RK)

In De Winkel reviews
-From Terminal Boredom: "The Krunchies are the sonic equivalent of a brutal beating. There's no need to overanalyze – it's simple call and response type songs with dual boy/girl screamers, slashing chords played at breakneck pace kept in line by ultra tight drumming (recorded perfectly by Jimmy Hollywood). And Amanda's voice is a weapon. Not since the days of Lorca's screaming in The Drags has a voice commanded my attention like hers. Come to think of it, had The Drags decided to go hardcore they wouldn't have sounded too far off from this. Very much worth your while." (JG) "Let me tell you my number one complaint with the Krunchies: Kevin's (pseudo) moustache. What's the deal? Maybe that flies in Chicago, but whatever town I live in (right now, Austin, TX) has to say: Huh? That aside, the Krunchies LP is absolute brilliance. 12 (or more…) tracks of pure hardcore a la the Baseball Furies or Comas early records (or, uh, any number of records circa '82). Fast, furious, pissed, and, hmmm…. danceable? I've had The Krunchies LP for 4 hours and have listened to it 4 times and lost the insert (thanks, alcohol) already. This is destined to be one of my favorite records of the year. Nonstop insanity, like all music should be. AWESOME!!!" (DH) "In 1982, this would have been hardcore. In 2005, it still is, even though their Hozac connections seem to have some kunfoozed. Amanda's voice remains one of the most, I dunno, "brutal" instruments on the planet, and the production, play and songwriting is several notches about their (already good) single. Speedy sandpapered Angry Samoans/Black Flag noise that goes down like a pizza enema. Weirdly-good Shepherd's Heard cover ta' boot. Score another for Criminal IQ kingpin (and doobiescooter fanatic) Darius and company." (TK)
-From Ox Fanzine: (Tranlated from German) "On the excellent and only to recommending Chicagos Label Criminal IQ, this "album" of the KRUNCHIES coming also out of Chicago appeared, singe that its twelve in just once tightly over 19 minutes down tear. Puristischer Punkrock between garage and three accords, that so before a couple of years also would have been able to appear on Rip-aped, that through once/female vocals bribes, whereby the Lady already one very voice would sharpen has. That is bound however to the good fortune well in the schnodderigen Gitarrensound so that that becomes never unpleasant. Music for of persons, who tend to the Hyperventilieren, that roar, until its face red is, that stop then after air snatching, before it goes on singed with the next. So simple, so charming, and who a song "Reaffirming my hatred of humanity through failed relationships" entitles, is anyway my friend. Strangely that Dutch anmutende album title, but anything that will have thought itself already at the same time. Gave well the first disk the trio, before that it is ne 7". And the Label writes "remembers what of to the Anarcho-Punk of the early eighties". Hm. Exzellenter material, on the Allernötigste of reduced Punk. (9)" (Joachim Hiller)
-From Sleazegrinder: "I kinda figured the Krunchies were French. Usually, when a band sounds like it's actively trying to piss you off with it's tuneless, headache making racket, they're Frenchies. Go ahead, check the books, it's true - striped shirts, neckerchiefs, songs about hating people, mangled guitar chords, and wet cardboard drums playing an entirely different song than the rest of the band. Bonjour, mon ami. Not this time, tho. This time it's our own kind on torture patrol. The Krunchies are a multi-gendered trio from Chicago. By default, I suppose they're a punk band, but their music is closer to no-fi garage rock sped up to like, DRI velocity, or something. The girl yelps like a panicked cartoon mouse, and the dude sounds like a belligerent schizophrenic. A French one. The guitar reminds me of a bratty child scribbling on the walls with a crayon, and the drums are like silverware falling off the table. The songs are all about a minute long, and if they were any longer, than surely, the neighbors would be calling the cops already. "In De Winkel" is dizzy, annoying, screechy, and spectacularly obnoxious from end to end. Fuck, now you're going to buy it, aren't you?"
-From Illinois Entertainer: "For one of the best examples of punk rock that will be never heard on commercial rock 'n' roll radio or seen on MTV, look no further than The Krunchies. Clocking in at just under 20 minutes, In De Winkel is a collection of 12 songs likely to leave scorch marks on even the most durable of speakers. From the in-your-face dueling male/female vocals to the guitars that rip through you like a bullet, for nearly everything great about punk rock, pick this disc up." (Dean Ramos)
-From Odyssey Zine: "Some albums are so fierce that you have to just soak it in with your mouth agape – letting the tracks sift through your brain while you manage only a single thought… That thought being: "son of a bitch!" In De Winkel is one of those records. This is a veritable aural stabbing with speedy tempos, rampaging, locomotive-wreck guitar riffs, and loony boy/girl shrieking on vocals. Every song is so frantic and savage it's like having a thousand revved-up termites in your pants (only here that is a good thing). It's hard. It's violent. It's loud. It is a must have. This is one of the best punk bands I can think of since the Baseball Furies (the other being the Feelers). This is an easy favorite for the year. Listen while you play: Gyruss"
-From Psychotic Reaction Zine: "I didn't like at all the EP, it was cool but i don't know... it haven't something. The LP have it... IT FUCKIN ROCKS!!! This is a fuckin awesome garage punk / hardcore album, yep.. that definitions sucks but is the truth. They could like to garage punks, they cover Shepard's Heard "I Know"!!! (from a Teenage Shutdown comp.. BFTG type of stuff), and to hardcore people. Songs like "Reafirming my Hatred of Humanity through failed Relationships" (probably my fav of the album), "So Physical" or "He's No" are incredible (the complete album is great). If you like rip off records stuff or old hardcore punk you will love this album." (Raúl)
-From Now Wave Magazine: "The Krunchies are not a band for everyone. But if you're craving an auditory electric shock of earsplitting proportions, then In De Winkel just might be the album for you. This Chicago trio lets loose 12 super-fast punk songs featuring screaming guy/girl vocals, thrashing buzzsaw guitar, hard-stabbing bass lines, and rapid fire drumming. Oldsters like me might call this "hardcore", but it doesn't really matter what you call it. It's good stuff. Behind all that race car velocity and fierce screeching rage lies some real musical skill. And if you're gonna scream, you might as well really scream. Amanda and Kevin sure do. Reminds me of Rip and Emmy, the meth-addicted couple next door, when they start yelling at each other every night and she invariably throws furniture at him and tells him to never even look at the whorebag Gina again if he doesn't want his balls severed with a steak knife. Listening to Amanda sing is like taking an electric drill and ripping straight into your eardrums - and I mean that as a high compliment! Song titles like "Reaffirming My Hatred of Humanity Through Failed Relationships" and "Kill Your Face/Murder My Will" give you a good idea of what kind of mood In De Winkel sets the moment you press the play button. The Krunchies go from wire to wire on hyper speed, each song a cathartic blast of pure punk rock adrenaline. This album is not recommended for your next easy listening session. But if you're pissed off (or wanna get pissed off ), you're in luck, bro." (Lord Rutledge, opinionated asshole)
-From Full Frontal Recordings: "After hearing this album I can say they are the American Version of the London Punk band ´Dirt´. To confirm I wasn´t talking through my arse I phoned a freind and played some of this album to him. He thought it was a new album or un-released tracks from Dirt. For all you Anarcho Punkers out there you´ll love this album. The tradtionalists will hate this but Punk Rock is a bit more about gobbing and all that crap. The Krunchies are where it´s at and you should give this album a listen. OK so the female vocals might get on your tits after a bit but thankfully they have a male vocalist on here which keeps things moving nicely along. Twelve tracks in all and not one filler and the ones you should be looking out for are ´Sobriety Anxiety´, ´Moonboots´, ´So Physical´ and ´Say What You Mean..´ Yeah I pretty much enjoyed this album and I bet you will too!"
-From Dead Metaphor: "I've been trying to write a review of this record all day, and I keep starting off with a bunch of malarky about how there's a new trend of crossover between garage rock and punk, but honestly my heart just isn't in that argument. Trend-spotting is one of the favorite pastimes for the zinester; the only problem is that (like the predictions on the Sunday morning political roundtable shows) those predictions about what band and what label are going to be hot next week rarely pan out. So, suffice to say that there are a number of bands like the Blinds and the Krunchies who are combining amped-up garage rock in the Rip Off Records style with early 80s-sounding hardcore the likes of which we've come to expect from bands like Career Suicide, and many of these bands are coming up with pure gold. Case in point: In Der Winkel. While nearly every song on the record has the hardcore tempos that I crave, there's really a whole lot more going on here. Usually a particularly expressive vocal melody or a simple, well-placed melodic guitar lead is all that I need to make me flip out over a record, but the Krunchies are a lot more ambitious. While I can't really carry the comparison that far, there's something Dead Kennedys-esque about the way that the Krunchies are willing to throw different sounds in the mix… sure, some of those sounds are slightly surfed-out East Bay Ray riffs (albeit extremely sped-up), but there are also really interesting drum patterns and vocal parts too. In other words, even though these guys (and gal) play fast as shit, they're not really working from the Dischord/X-Claim playbook like so many more straightforward hardcore bands. The Pedestrians LP (which I'll definitely be writing about soon) is probably the pick of the litter as far as Criminal IQ's latest releases go, but this LP from the Krunchies is well-worth a listen, especially if you've been captivated by bands like the Blinds, the Catholic Boys and Career Suicide as of late. " (Daniel)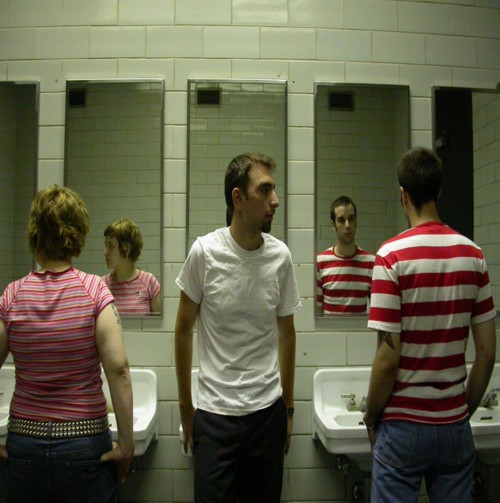 Interrobang reviews
-From Razorcake (Issue 20): "It's not too far off to think of Criminal IQ Records as building a house in the Dangerhouse, early Posh Boy, early Frontier subdivision of music. They haven't yet released anything that's bad, it's stylistically all in the same ballpark, but thier bands are definitely not retreaded radials of one another. The Krunchies are no exception- dual male/female vocals- the lady is an acquired voice (I like it), almost like if you put a microphone up to a fuzzy, baby chick (as in just-born chicken), amplified its voice, and made it angry- and couple it with spastic bass lines and guitar work that sounds like it's hooked up to a food processor (serrate, chop, blend, gallop). The music behind the vocals reminds me of the debut Red Cross EP mixed with early Plugz, if that's any help. I can't say anything bad about 'em. Rock solid EP. Look forward to more." (Todd Taylor)
-From Maximum Rocknroll (June 2004): "Way sloppy, so fast I had to check the RPM setting twice, The Krunchies are my new favorite band. The lyrics couldn't be more relevant to our current culture with songs like "Wargasm" and "Mutant Botox Master Race"; this is lo-fi garage with some meat and bones." (Donna Poole)
-From Horizontal Action (Issue 13): "The debut EP from the KRUNCHIES hits you hard and fast with it's ANGRY SAMOANSish yelps and cardboard brains to match. Yep, it's another Chicago band bashing your head into the wall of mediocrity and you'll be pissing all over your face before it even reaches the second side. "Douche Your Brain" is the cut that hits the deepest, and you'd best be buying up all those Curads before it ruins that lovely blouse of yours." (Rich Drippings)
-From Thrasher (June 2004): "Two dicks and one chick, full speed and jangly guitars, and an inherent spazzed-out and lo-fi approach. Dangerous when mixed with alcohol. Do not operate heavy machinery..." (Wez Lundry)
-From Terminal Boredom: "First release from yet another band from Chicago (remember when we were saying that about Wisconsin...), these guys/gal are actually a lot fun. Speedy delivery of humorously semi-topical punk songs (think Angry Samoans), with guy-girl trade off vocals (well, the guys sings and the girl shrieks). Punk rock in all the best ways, and it's always great to find another band with an actual sense of humor. A recommended release, and not because they happen to be the house band for the Brian Costello Show. Some copies on clear vinyl." ('Filthy' Rich Kroneiss)
-From Smashin' Transistors: "Very fast moving angst riddled guitars. I can't really put my finger on who these threesome sound like but they have a spark to them. This records has a wild drivin' pace and flow. "Cherry Bomb!" is a sweet punk rocking romance duet thing and "Urban Chic" has a fast marching Crass type of beat. Here's some insane punk rock not to be ignored." (slv)
-From No Front Teeth zine: "Fast, paroxysmal punk rock like a more out of control BRIEFS. It's got that uncomfortable, spastic sound that I crave with added screeching vocals. This is definitely my kinda punk rock. Red wax too."
-From Savage Magazine: "Newish Chicago-band out to destroy the world with their speeded-up and to-the-point- punkrock. Only one of the six songs clocks over 2 minutes, which is something one really can appreciate these days. But unfortunately the music itself doesn`t really move me one way or the other. The boy/girl-vocals offer some good change, the lyrics are funny and there`s something really sympathic about this three-piece but the music is for the most part too "hard-corish" for me and they lack the utter crazyness of bands say, Tyrades, that would lift them above other bands making a reminiscent racket. Well, "Douche Your Brain" is a real killer! Not bad, but not good either. It`s your call partner!" (Artemi) "Anutha fuckin killer band outta that most windy and a-happenin' place we all know and love as Chicago! A brother and sister on drums and bass/vox and their friend on guitar and vocals. So we get girl and guy vocals and it's pretty damn cool shit. They can also brag about being houseband for the Brian Costello show! Oh the music, well, you know what's hip in Chicago these days. Medium tempo over-the-top punkrock of course (no, not counting the Ponys..) Similar to the Functional Blackouts but with a more basic approach. Add a little more Rip Offs and you get the idea. Real cool stuff! Of course this is on the utterly hip, leader of the new Chicagoan punkrock movement record label that is Criminal IQ! On see-thru vinyl too boot.. Oh, and this single also sports six songs!" (Thomas) -"Mutant Botox Master Race" was played on legendary British DJ John Peel's radio show last week. Crazy! -Here's an e-mail we got after we played a talent show at Matt's school: Hello! At the Battle of the Bands, you asked me to share some of the comments with you about your performance. Each band was ranked on a scale of 1-5 with 5 being highest, 1 being lowest. They were ranked in the areas of Talent, Stage Presence, Organization/Flow (easy to work with, communication with each other etc.), and Crowd Appeal. Below is how you ranked: Talent: 3, 1, 3, 2, 3, 2 Stage Presence: 4, 5, 5, 5, 5, 5 Organization/Flow: 4, 5, 3, 4, 4, 3 Crowd Appeal: 2, 1, 2, 2, 1, 2 Some comments included: hilarious, Much better than britney spears, they were funny, these guys crack me up, not great, but entertaining, hard to understand, moves too fast, too much screaching. Overall, my only suggestion would be to know your venue. In the Center Court with so few people in there to buffer the noise, the amps were turned up way too high. It would have been a great show with fewer decibles. You have a great stage presence and would be great to have back someday...just turn it down a bit so that people can actually hear you. Thanks and let me know if you have any questions! Leah
TAKE ME HOME (tonight)